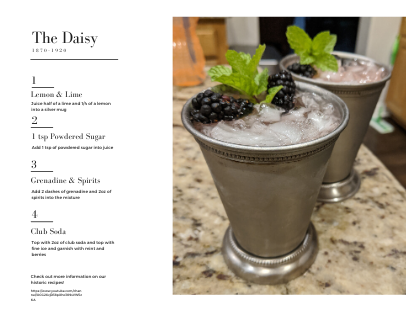 As the demand for alcohol roared through the 1920s, the enforcement of the Volstead laws cut the supply of quality products.  Depression in the agricultural markets led many to distilling as a way to provide for their families or make a few bucks. Thus, moonshiners and diluters began supplying the speakeasy patron a drink with a harsh burn that needed to be cooled.  In 1925 alone, there were over 30 cases of illegal manufacture, sell, or possession brought before the Natchitoches Parish courthouse.  Though many of these cases were quite serious, a few were quite comical.  Such as an individual charged of being drunk at a public picnic and two whiskey-runners being arrested as they walked out of the Little Gem Café (to-go box in hand).  All of these various cases let us know the varying personalities of those who went afoul of Prohibition.
Before the onset of Prohibition, the "Sour" was a popular cocktail. As the 1910s rolled around, the addition of club soda or seltzer water to the basic Sour created the Daisy.  Unfortunately for the Daisy, the "sparkle" provided by the soda didn't make it unique enough to stand apart from the Sour.  Once the Twenties truly got roaring, the Daisy had been replaced by the simpler Fizz, yet many a Daisy was still enjoyed in a southern speakeasy.  The Daisy was a quite popular whiskey drink, but it was also a good cocktail choice to mask the flavor of bathtub gin.
Click here to watch our video presentation!