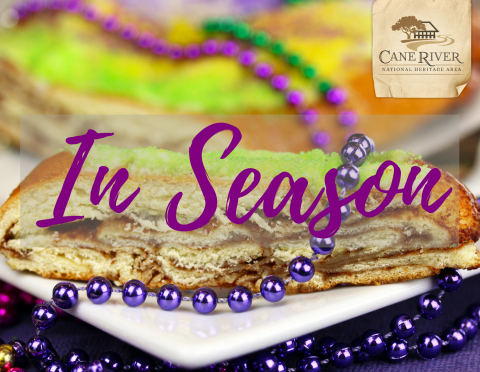 In Season is a blog series that follows Cane River NHA Communications and Marketing Manager Amy Lee. She explores the flavors and traditions of Cane River's most famous food traditions and recipes.
It's the time of year that most Louisianians look forward to the most - Mardi Gras! I am relatively new to Mardi Gras traditions and the experience, but something I am not inexperienced with is the joys of trying out the hundreds of styles of King Cake. Seeing as I have a personal love for king cake, this month's In Season will focus on a hot topic issue I am proposing: What do you do with your leftover King Cake?
For those who haven't had the pleasure of tasting King Cake or may not be familiar with this dessert, let's break down some of King Cake's basic info. King Cake is said to have been brought to New Orleans from France in 1870 and has the flavor of coffee cake combined with a French pastry texture. The cake is decorated in purple, green, and gold sprinkles and beads to signify justice, faith, and power. We also can't forget about the prize that one can find inside of every King Cake. In the past, folks would hide beans, coins, or pecans inside of a King Cake. Today, we hide a tiny plastic baby inside each delectable treat. The lucky person to receive the hidden baby in their King Cake slice is named the "King" or "Queen" for the day and then makes them responsible for bringing the King Cake next time.
While pondering my previous question, "What do you do with leftover King Cake?" I came up with a few solutions: the first being King Cake Bread Pudding. The idea behind incorporating King Cake into a bread pudding is to provide moisture to your cake if it may have dried out. I have also always felt like bread pudding is a Louisiana staple dessert, making it the perfect option to infuse with a seasonal treat.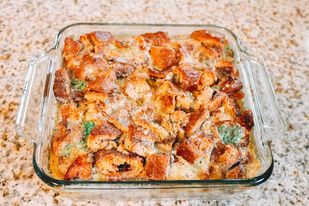 My second idea for recycling leftover King Cake came from a personal love of cinnamon ice cream. This idea made sense because of the similarity between King Cake and coffee cake and the continued opportunity to provide moisture to what could be a dry dessert. Side note: I used my ice cream machine to make this, but I firmly believe you could purchase vanilla ice cream and incorporate the king cake, cinnamon, lemon zest, and cream cheese for an almost identical effect. Also, do not forget to top your ice cream off with some Mardi Gras Sprinkles!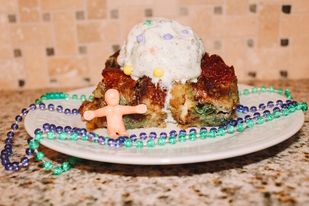 Serving tip: I served my bread pudding slightly warm and topped it off with my Mardi Gras ice cream. The bread pudding is also delicious with a cup of coffee for an additional treat!
If you try out any of these recipes or have any creative ways to celebrate Mardi Gras, please share them with me by using #ExploreCaneRiver or tag us on social media at Cane River National Heritage Area. This year, Mardi Gras will look a little different due to the Covid-19 pandemic, but that won't stop our locals from celebrating this much loved Cane River tradition.  Don't forget to check out your local King Cake options from some of Cane River's amazing bakers and celebrators!
Recipes:
Written By: Amy Lee, Communications and Marketing Manager
Sources:
https://randazzokingcake.com/history
Inspiration:
https://www.finecooking.com/collection/beyond-king-cake-sweets-for-your-mardi-gras-party