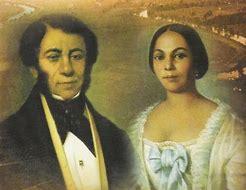 Auguste Augustin Metoyer & Maire Carmelite Antey, descendants of Marie Thérèse Coincoin.
Marie Thérèse Coincoin, a slave owned by founder of Natchitoches Louis Juchereau de St. Denis, was leased from St. Denis to a young French merchant named Claude Thomas Pierre Metoyer to be his housekeeper. A long-term liaison ensued, resulting in ten children, seven of whom survived to adulthood. Eventually, Metoyer purchased Marie Thérèse from Mme de Soto – the daughter of St. Denis – and gave Coincoin her freedom.
With her freedom, a yearly allowance, and a parcel of land given by Metoyer that adjoined his downriver plantation, Marie Thérèse began raising tobacco. In the coming years, Marie's fortunes grew by virtue of her and her sons receiving land grants and purchasing slaves. They became the leading family of a community called Isle Brevelle, populated by "gens de couleur libre", free people of color who thrived as business people, plantation owners, and surprisingly, slave owners.
One of her sons, Louis Metoyer – still technically a slave of his father, Claude Thomas Pierre Metoyer – was deeded 911 acres of land on which he would eventually build one of Cane River's jewels, the Melrose Plantation.