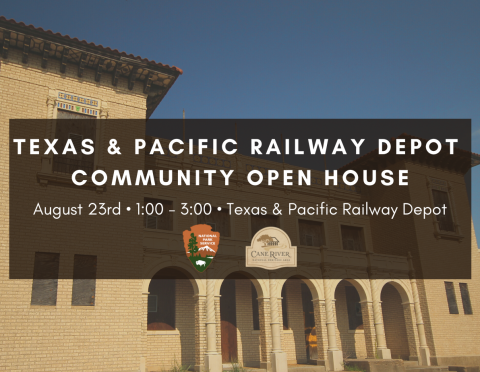 Public Invited to Depot Community Open House
Release Date: August 3, 2021
Contact: Carrie Mardorf, 318-652-0141, Carrie_Mardorf@nps.gov
Barbara Justice, 318-352-0383, ext. 200, Barbara_Justice@nps.gov
NATCHITOCHES, LA – Cane River Creole National Historical Park and Cane River National Heritage Area invite the public to participate in a community open house for the Texas & Pacific Railway Depot (Depot) at 1:00 pm on Monday August 23, 2021, at the Texas and Pacific Railway Depot located at 607 Trudeau Street, Natchitoches.  Visitors to the open house are encouraged to share their stories and tour the Texas and Pacific Railway Depot.
The event is scheduled to take place during the anticipated stop of the world's largest steam locomotive, Big Boy No. 4014, which is scheduled for a short stop in Natchitoches from 1:30-2:15 pm at the Trudeau Street crossing near the Depot. "We've been thrilled with the turn out at our last two listening sessions for the Depot but wanted to offer one last opportunity for community members to share their stories," remarked Carrie Mardorf, Park Superintendent. "We're hoping that by opening the doors of the Depot during this moment of interest in local locomotive history will encourage the community share their memories and learn about the project," continued Rebecca Blankenbaker, heritage area Executive Director. 
The community open house and listening session is part of a public input and interpretive project between the park and heritage area to identify stories, memories, and messages from community members that should be presented to visitors at the Depot. The Depot, owned by the City of Natchitoches, has been leased to the National Park Service and will serve as the primary visitor center for Cane River Creole National Historical Park, providing visitors with information about African American history along Cane River and Oakland and Magnolia Plantations. In addition, visitors will be able to tour the Depot and see future construction plans.
This event is not in conjunction or affiliated with the arrival of the Big Boy No.4014 train. Participants attending the viewing of the train are welcome to join in the Depot community open house. Staff from the Cane River Creole National Historical Park and Cane River National Heritage Area will be onsite to offer tours, junior ranger activities, and engage with visitors at the Depot only. The park and the heritage are not responsible for the coordination or engagement with Big Boy No. 4014 during its stop in Natchitoches.
We encourage all visitors to recreate responsibly and follow basic railroad safety guidelines:
•             Stand back at least 25 feet from all railroad tracks.
•             Railroad tracks, trestles, yards and right of way are private property - please do not trespass.
•             Never assume tracks are abandoned or inactive - ALWAYS expect a train.
We also ask visitors to follow CDC guidance to reduce the spread of COVID-19, including staying home when feeling sick.  Details and updates on this event will continue to be posted on the park website www.nps.gov/cari and social media channels.
###
About the national park Service. More than 20,000 National Park Service employees care for America's 423 national parks and work with communities across the nation to help preserve local history and create close-to-home recreational opportunities. Learn more at www.nps.gov and on Facebook, Instagram, Twitter, and Youtube.
Cane River National Heritage Area, Inc. is a not-for-profit organization that manages the congressionally designated Cane River National Heritage Area. Its mission is to preserve and promote the cultural and natural resources of Cane River and encourage economic development by strengthening heritage tourism in the region.