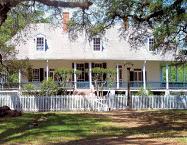 Release Date: September 25, 2013
Contacts: Nathan Hatfield, 318-356-8441 Nathan_Hatfield@nps.gov
Cane River Creole National Historical Park to Host Exciting Fall Activities
The National Park Service is proud to announce the following events and activities for October 2013:
Cane River Creole NHP's Oakland Plantation will once again be featured in the annual Fall Tour of Homes. This year's fall tour will take place on October 13 and 14 from 9am-4pm. On a typical day park rangers provide guided tours, but during the Fall Tour, the Prud'homme family returns to their ancestral home. Three generations of Prud'hommes will be on hand giving tours, and interacting with the public.
During Fall Tour weekend visitors will also have the opportunity to visit with former Oakland resident Elvin Shields. Elvin and his family were sharecroppers at Oakland in the 1950's. Today Elvin is a locally renowned folk artist, known for his "Plantation Toys". Elvin will be at Oakland to talk about his childhood memories and show off examples of the toys he and his brother would have played with.
Author Elizabeth Shown Mills will be at Oakland Plantation at 10am on October 12 signing copies of "The Forgotten People: Cane River's Creoles of Color". First published in 1977, The Forgotten People offers a socioeconomic history of this widely publicized but also highly romanticized community—a minority group that fit no stereotypes, refused all outside labels, and still struggles to explain its identity in a world mystified by Creolism. Now revised and significantly expanded, this time-honored work revisits Cane River's "forgotten people" and incorporates new findings and insight gleaned across thirty-five years of further research.
Park rangers will continue to offer free downtown walking tours of the Natchitoches Historic District. The tours will take place Thursday-Sunday at 9am. Staff members will be presenting our "300 Years of Natchitoches History Tour" on October 3, 4, 5, 6, 11, 18, 19, 20, 24, 25, 26, 27. Park Ranger Tim Van Cleave will be presenting the "Architecture of the Historic District" tour on October 10, 17, and 31. There will be no tours on October 12 & 13.
The National Park Service along with Northwestern State's Cammie G. Henry Research center will be hosting Denis Diderot's 300th birthday celebration. This event will take place on October 13 at 2:30pm on the third floor of NSU's Watson Memorial Library. Diderot is one of the Enlightenment's most revered thinkers and editor of L'encyclopédie, ou Dictionnaire raisonné de Sciences, des Arts es des Métiers (Encyclopedia, or Analytical Dictionary of the Sciences, Arts, and Crafts) In honor of tri-centennial of Diderot's birth, the National Park Service will be display copies of L'encyclopedie throughout 2014. Cake and refreshments will be available.
For more information about these events call 318 356-8441. Cane River Creole NHP's Oakland Plantation is located at 4386 Hwy 496, Bermuda LA 71456. Cane River Creole NHP's Magnolia Plantation complex is located at 5549 Hwy 119, Derry LA 71416.
About the National Park Service. More than 20,000 National Park Service employees care for America's 395 national parks and work with communities across the nation to help preserve local history and create close-to-home recreational opportunities. Learn more at www.nps.gov