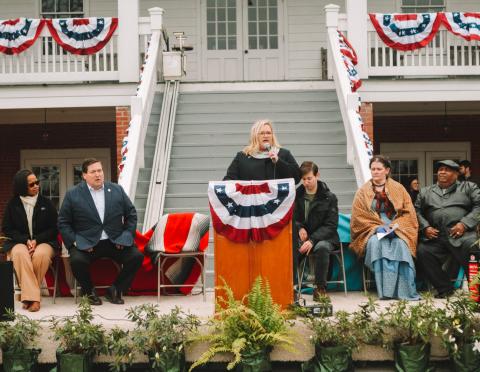 Natchitoches, LA – On February 25, 2022, Cane River National Heritage Area (CRNHA) joined the Sabine Parish Tourist Commission, Lt. Governor Billy Nungesser, Louisiana State Parks, and the Friends of Fort Jesup in celebrating the kick-off of Fort Jesup's Bicentennial Celebration.  
Over 200 years ago in 1822, The United States established Fort Jesup to provide protection for settlers in western Louisiana and to prevent Spanish claims to the territory formally known as No Man's Land. While the fort was only open for a relatively short period of time, the work of the soldiers stationed here and the interaction they had with the settlers in this region left an indelible legacy we can still see on the land.
"Today is a day of significance for Sabine Parish, the Fort Jesup community, for the dozens of preservation organizations, government entities & individuals who have worked over the decades to preserve this legacy and the Fort Jesup property," remarked Rebecca Blankenbaker, CRNHA Executive Director.
In addition to living history demonstrations and musket firings, preservation organizations who have worked to preserve the legacy of Fort Jesup were honored. The honorees included the Sabine Chapter of the Louisiana Society of the Daughters of the American Revolution, the Daughters of the American Revolution, the National Society of the Children of the American Revolution, the Sabine Parish Police Jury, the Sabine River Authority, and the City of Many.
Celebrate the 200th anniversary of Fort Jesup this year by keeping up with Fort Jesup and the Friends of Fort Jesup for more school days, living history demonstrations, and new exhibits.
###
Congress created the Cane River National Heritage Area in 1994 to recognize and protect the region's diverse and nationally significant heritage.  Since that time, the Heritage Area team has used a grassroots, community-driven approach to further heritage conservation and economic development in the Natchitoches area.  By cultivating public-private partnerships, the Cane River National Heritage Area has invested more than $5.9 million in funding to support 375 projects in the region in critical areas, including Historic Preservation, Cultural Conservation, Outdoor Recreation & Conservation, Capacity Building, and Heritage Tourism.