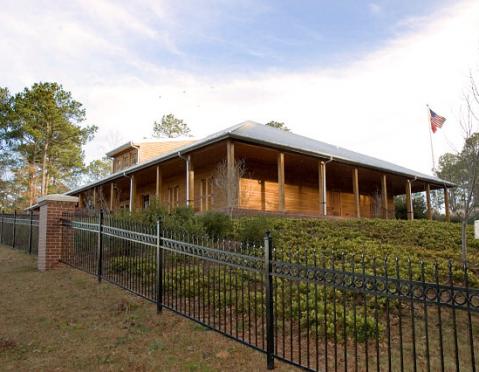 Cane River NHA Partners with US Army Corps of Engineers at Grand Ecore
Cane River National Heritage Area, Inc. (CRNHA) and the U.S. Army Corps of Engineers signed a cooperative agreement on Monday, November 9, 2015 to operate the Grand Ecore Visitor Center (GEVC) in Natchitoches, Louisiana. Under the new agreement, CRNHA will assist the Corps in daily operations and staffing of the Grand Ecore Visitor Center, create community outreach and educational programs, improve interpretive services, and enhance the marketing and heritage tourism initiatives of the site. Steven Fullen, CRNHA Director of Interpretation, will serve as the CRNHA liaison. The Corps will continue to maintain its facility management responsibilities as part of the agreement.
"We are thrilled to embark upon this new partnership with the Corps," remarked Cynthia Sutton, CRNHA President. "Managing the Grand Ecore Visitor Center gives us a front line opportunity to enhance the public's understanding of the significant natural and cultural resources located in our region and to continue to foster a spirit of stewardship for those resources," Sutton continued.
The GEVC was opened in May 2003 as part of the recreational opportunities created for the J. Bennett Johnston Waterway, a 236-mile segment of Red River extending from Shreveport to the Mississippi River. The Visitor Center is located at Grand Ecore, a small community about four miles north of Natchitoches, Louisiana, and commands a panoramic view from a bluff 80 feet above the Red River.  The Visitor Center displays exhibits which educate and inform the public about the Red River Waterway and the Corps of Engineers' role in development, preservation, and enhancement of the water resources in the region, as well as the geology, paleontology, and Native American cultures of the region.
Grand Ecore Visitor Center
J. Bennett Johnston Waterway
106 Tauzin Island Road
Natchitoches, Louisiana 71457
Free Admission
Hours of operation are
Thursday-Sunday 10:00 A.M. - 4:00 P.M.
Closed Monday - Wednesday
Closed Dec. 24-27, 2014 and Jan. 1, 2015
318-354-8770