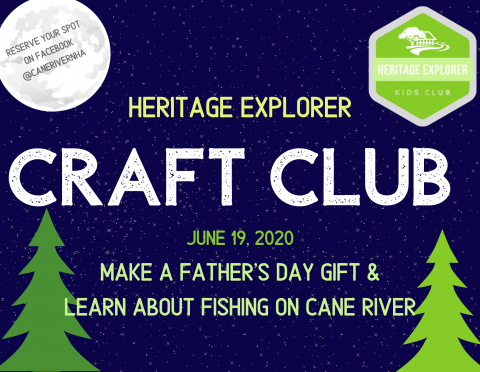 Cane River National Heritage Areas to host: Fishing on Cane River & Father's Day Craft
Contact: Rebecca Blankenbaker
Executive Director
Cane River National Heritage Area
1115 Washington Street
Natchitoches, LA 71457
(318)356-5555
6/15/2020
NATCHITOCHES, LA – Cane River National Heritage Area, Inc. (CRNHA) will host a virtual craft event titled: Fishing on Cane River & Father's Day Craft, June 19, 2020 at 10:00am.
The Cane River Craft Club is a virtual comprehensive learning and exploration experience with hands-on crafts, guest-starring local experts from our heritage sites. This month, Heritage Explorers will be making a Father's Day fish key chain while learning about fishing and natural resources on Cane River from Dustin Fuqua, Chief of Resource Management at Cane River Creole National Historical Park.
Each craft kit is $10 which includes all crafting supplies and a 30-minute Zoom class that provides crafting instructions and an educational lesson.
Here's how to participate:
1. Register and purchase your craft kit via Eventbrite on the Facebook event at Cane River NHA.
2. Pick up the craft kit on June 17th or 18th from 12-1 or 3-4 at the CRNHA office at 1115 Washington Street, Natchitoches.
3. Tune in to Zoom on June 19th at 10:00am.
###
Cane River National Heritage Area, Inc. is a not-for-profit organization that manages the congressionally designated Cane River National Heritage Area. Its mission is to preserve and promote the cultural and natural resources of Cane River and encourage economic development by strengthening heritage tourism in the region.