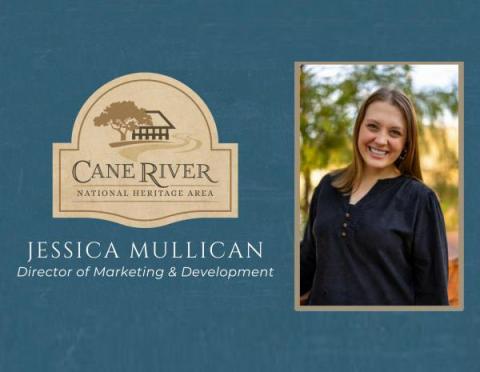 FOR IMMEDIATE RELEASE
Cane River National Heritage Area Welcomes Jessica Mullican as Director of Marketing and Development
Natchitoches, LA - Cane River National Heritage Area, Inc. (CRNHA) announced the employment of Jessica Mullican as Director of Marketing and Development on Tuesday, January 17, 2023. A native of Deridder, Louisiana, Mullican obtained her undergraduate degrees in Communications and Hospitality Management and Tourism from Northwestern State University of Louisiana (NSULA) in May 2022 and joins the CRNHA team from a recent position with the Office of First Year Experience at NSULA.
Mullican previously served as an intern with CRNHA from January 2020 to May 2022, working on critical cultural and public history projects during her tenure. In her new role, Mullican will manage the marketing and branding and fund development of the Cane River National Heritage Area and work to build community partnerships through public engagement and community initiatives. Additionally, Mullican is enrolled in the graduate program at Louisiana State University in Shreveport to pursue her master's degree in Nonprofit Administration and Development.
"We are thrilled to welcome Jessica back to our organization in this new leadership role," said Rebecca Blankenbaker, Executive Director. "Jessica has a passion for preserving the culture of the Cane River region that's combined with her natural talent to connect, communicate, and build meaningful relationships with our partners and team members." Mullican's hiring comes as the Cane River National Heritage Area implements a plan of strategic growth in outdoor recreation and tourism development, grant programs, fund development, and outreach.
"When I moved to Natchitoches in 2018 for college, I had no idea how much I would grow to love the history, people, and culture of the Cane River region," said Mullican. "I am excited to be rejoining Cane River National Heritage Area, and I am looking forward to preserving and sharing the stories and traditions I've grown to love."
About the Heritage Area: Cane River National Heritage Area, Inc. (CRNHA) is a non-profit organization that preserves, promotes, and presents the nationally significant heritage of the Cane River region. Located in Natchitoches, Louisiana, CRNHA works with regional partners to provide high-quality educational, cultural, and recreational experiences in the area's unique historical settings through a linked system of attractions and historic districts within the Cane River National Heritage Area.