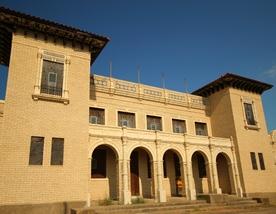 Natchitoches, LA, August 20, 2012 – Cane River National Heritage Area, Inc. (CRNHA) announced today that the organization received a $50,000 grant through the State of Louisiana, Division of Administration, and Office of Community Development to assist with the stabilization of the Texas & Pacific Railway Depot located in Natchitoches, Louisiana.
This historically significant depot was built in 1927 in the Italian Renaissance and Spanish revival styles and is one of only four urban depots remaining in Louisiana. Its segregated entrances and waiting rooms are physical manifestations of Jim Crow laws and tell an important part of the African American story in Louisiana. The Depot is listed on the National Register of Historic Places and was named to theLouisiana Trust for Historic Preservation's 10 Most Endangered Historic Sites in 2006.The rehabilitation project is a partnership with the City of Natchitoches and area stakeholders.
To read more, click here.