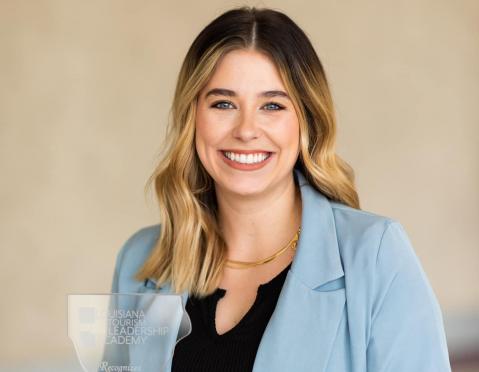 Natchitoches, LA – The Louisiana Travel Association (LTA) honored the Louisiana Tourism Leadership Academy (LTLA) graduates at the association's 2022 Annual Meeting in Alexandria. In the graduating class was Cane River National Heritage Area's Marketing and Communications manager, Amy Lee.
The 21 members of the LTLA class spent all of 2021 developing their leadership skills while learning from seasoned professionals from throughout the tourism industry. The goal of the program is to equip each class member with knowledge and skills that will enrich their tourism-related organizations, therefore strengthening the state-wide tourism industry.
"LTLA was an incredible opportunity to learn from leaders in the tourism industry and network while traveling across the State and seeing the impact that tourism makes on Louisiana," said Amy Lee.
Members of the class also gave back to the tourism community by selecting businesses within the industry for pro-bono projects. The four separate groups developed a SWOT analysis for Pointe Coupee Tourist Commission, marketing plan for St. Martin Parish, social media solutions for the Louisiana Sports Hall of Fame and Northwest Louisiana History Museum, and product development plan for Wildcat Brothers Distilling.
"We are so proud of Amy's accomplishment in completing this course," remarked Rebecca Blankenbaker, CRNHA Executive Director. "Amy is a rising star in the region and her contributions and leadership have led to the creation of new tourism products like the No Man's Land Gas Station Eats Food Trail and the GoNatchitoches App and GoLocal campaign during the peak of the pandemic. I know we can expect to see more great things from her in the future."
Congress created the Cane River National Heritage Area in 1994 to recognize and protect the region's diverse and nationally significant heritage.  Since that time, the Heritage Area team has used a grassroots, community-driven approach to further heritage conservation and economic development in the Natchitoches area.  By cultivating public-private partnerships, the Cane River National Heritage Area has invested more than $5.9 million in funding to support 375 projects in the region in critical areas, including Historic Preservation, Cultural Conservation, Outdoor Recreation & Conservation, Capacity Building