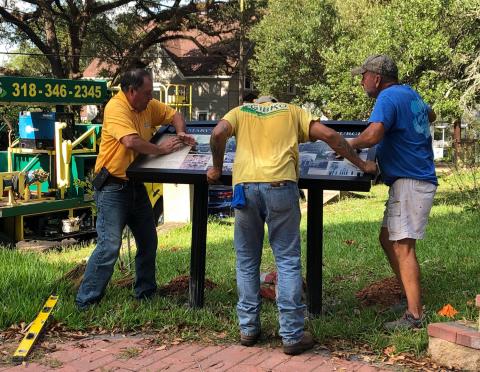 NEWS RELEASE
Cane River National Heritage Area Makes Improvements to Scenic Byway Signage 
Contact: Rebecca Blankenbaker
Executive Director
Cane River National Heritage Area
1115 Washington Street
Natchitoches, LA 71457
(318)356-5555
9/11/2020
NATCHITOCHES, LA – On September 10, 2020, Cane River National Heritage Area, Inc. (CRNHA) completed Phase 1 of scheduled improvements to the Signage and Wayfinding system along the Cane River National Heritage Trail, a Louisiana scenic byway that links thirty-two heritage sites and attractions along the 116,000 acres designated as the Cane River National Heritage Area. In 2005, the Cane River National Heritage Area Commission created the CRNHA Wayfinding, Signage, and Identity program. The program has been successful in creating a cohesive visitor experience and includes auto-directional wayfinding, site identification, information, and interpretive signage. 
Through collaboration with the Natchitoches Parish Government and the City of Natchitoches, Cane River National Heritage Area created a navigable corridor that enhances visitation to heritage attractions, improves existing infrastructure and accommodates new development while preserving the intrinsic qualities of the Cane River region.
"Over the course of the program's fifteen-year period, our signage program has helped nearly a million visitors navigate our rural roads and discover our region's most fascinating stories," remarked CRNHA Executive Director, Rebecca Blankenbaker. "This Spring, our staff conducted an evaluation of our signage system and created a four-phase plan for replacing the most weather worn and damaged signs," she continued.
Phase 1 of the plan included the replacement of 13 auto-directional signs and 2 interpretive plaques. Phase 2, which is currently in the design phase, will include 11 auto-directional signs and 2 new trailhead panels at the kiosks on I-49. Phase 2 is projected to be completed by the end of 2020. Phase 3 & 4 will finish updating all auto-directional signs and will take place in 2021. CRNHA is working with the regional company, Gibko Signs located in Bunkie to fabricate and install the new signage.
The signage system is supported by a comprehensive guidebook; walking and driving trail brochures; a mobile responsive website, www.CaneRiverNHA.org; and the recently created GoNatchitoches App available for download in the Apple and Google app stores.
###
Cane River National Heritage Area, Inc. is a not-for-profit organization that manages the congressionally designated Cane River National Heritage Area. Its mission is to preserve and promote the cultural and natural resources of Cane River and encourage economic development by strengthening heritage tourism in the region.