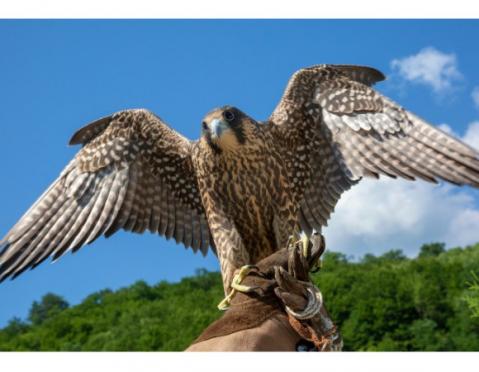 FOR IMMEDIATE RELEASE
Cane River National Heritage Area to Host Birds of Prey Show and Tell at Los Adaes State Historic Site
Natchitoches, LA - Cane River National Heritage Area, Inc. (CRNHA), will host a show and tell at Los Adaes State Historic Site on Saturday, May 14, 2022, at 11:30am titled "Birds of Prey".
Senior Park Naturalist and Manager, Rusty Scarborough, with the Walter B. Jacobs Memorial Nature Park in Shreveport, will bring a live bird of prey and give visitors an up close and personal look and explain the role that these birds play both in nature and sport.
"We are excited to welcome Rusty back to Los Adaes to share his expertise and training in handling these magnificent birds and are looking forward to seeing longtime friends and families back at Los Adaes to enjoy the park once again," remarked Rebecca Blankenbaker, CRNHA Executive Director.
Throughout the day visitors will be able to borrow binoculars to gaze at local wildlife and participate in children's arts and crafts.
The lecture is free and open to the public. Because this program will include a live bird of prey, we must ask small dogs or other animals are not brought to the park.
Cane River National Heritage Area, Inc. manages the daily operations and visitor services of the Los Adaes State Historic Site in partnership with the Louisiana Office of State Parks. The 14-acre site located on the "El Camino Real" near Natchitoches features the remains of a Spanish fort and mission built in 1721 to protect Texas from the French. It is a National Historic Landmark in recognition of its archaeological and historic significance.
Contact: Amy Lee, Cane River National Heritage Area
 Phone:  (318) 356-5555