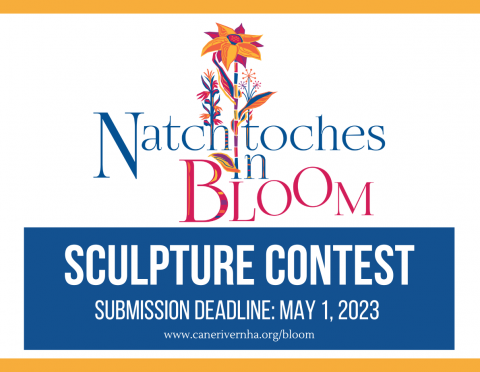 FOR IMMEDIATE RELEASE
Call for Artists: Natchitoches in Bloom Public Art Contest
Natchitoches, LA - Cane River National Heritage Area Inc. (CRNHA) seeks artist designs for the Natchitoches in Bloom Public Art Project. The project was created and is funded by the Natchitoches Historic District Development Commission and the Cane River National Heritage Area. Together these entities have partnered with artist Corbin Covher, an Associate Professor of art at the Northwestern State University of Louisiana, School of Creative and Performing Arts, to design and sculpt a series of metal public art sculptures featuring native or noteworthy flora from the Cane River region. These sculptures will be placed in public parks across the City of Natchitoches and help bring awareness to the visual arts. In 2023 four sculptures will be unveiled: the Louisiana Iris, the Zinnia, the Tulip, and the Magnolia. 
"When we embarked on this project, our goal was to create new public art that builds a connection between our environment, culture, and people," remarked Rebecca Blankenbaker, Executive Director of Cane River National Heritage Area. "Natchitoches is known for its remarkable history as a cultural crossroads, and we see that connection nearly every day in our buildings and streetscapes, but we wanted to create an opportunity to honor that legacy through public art too," Blankenbaker continued. The project will eventually include eight total sculptures, with the first, The Poinsettia, unveiled in November 2022 near the Santa Claus House on the Natchitoches Riverbank. 
"Selection for the 2023 class was quite easy," remarked Corbin Covher, Project Sculptor and Associate Professor of Art at NSULA. "There are so many florae that are native to the area, but we also had a great selection of flowers and plants to choose from that are tied or connected to people or places of influence in the community," continued Covher. This year's sculptures particularly reflect the strong influence women have had on the Natchitoches and Cane River region. For example, the Zinnia, often depicted in folk-artist Clementine Hunter's world-renowned paintings; the Louisiana Iris, found in abundance at Briarwood, home of pioneer conservationist Caroline Dormon; the Tulip, in recognition of one our most notable festival seasons outside of Christmas, "Bloomin' on the Bricks"; and lastly, the Magnolia, representing the legacy of the movie and play Steel Magnolias, written by Robert Harling as an ode to the strong women in his world.  
Submissions will be accepted until 5:00 pm on Monday, May 1, 2023, and selected winners will be notified of winning submissions by Monday, May 22, 2023. The winning sculpture designs will be anonymously selected by a panel of judges consisting of Natchitoches in Bloom Committee members, local art experts, and community representatives. Artists whose designs are selected will receive a $1,000 honorarium and up to $400 reimbursement for art supplies. 
For more information on the contest, including submission guidelines and requirements, please visit canerivernha.org/bloom.
About the Heritage Area: Cane River National Heritage Area, Inc. (CRNHA) is a non-profit organization that preserves, promotes, and presents the nationally significant heritage of the Cane River region. Located in Natchitoches, Louisiana, CRNHA works with regional partners to provide high-quality educational, cultural, and recreational experiences in the area's unique historical settings through a linked system of attractions and historic districts within the Cane River National Heritage Area.