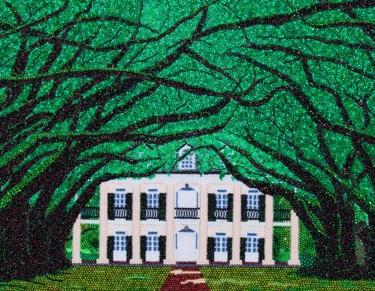 You Can Be a Part of Natchitoches History
Celebrating 300 years of history, looking 300 years forward.
NATCHITOCHES, LA - Beading mosaic workshops for the Natchitoches Legacy Art Project will begin on Tuesday, August 27th at the Hanchey Gallery on the campus of Northwestern State University in Natchitoches, La.
Groups, clubs, organizations and the general public are encouraged to be a part of history as Bead Town Artist Stephan Wanger assembles a beaded mosaic of Natchitoches' Cane River Lake and Historic Front Street. Once completed, the artwork will be 48 feet long and 8 feet high making it the largest beaded mosaic in the world. Beading workshops will be held on Tuesdays and Thursdays for school groups, clubs, and organizations; and on Wednesdays and Fridays for the general public.
Cynthia Sutton, President of Cane River National Heritage Area said, "The Legacy Art Project is an incredible opportunity for Natchitoches. As the community comes together to commemorate 300 years of history, this project looks forward to a future for all Natchitoches children that will be filled with promise."
Natchitoches is the oldest settlement in the Louisiana Purchase territory established in 1714 and was founded by French soldier Louis Juchereau de St. Denis. The beaded mosaic will be the official print commemorating Natchitoches' 300th anniversary.
Three hundred prints of the commissioned piece will be sold in order to establish the Natchitoches Legacy Art Project Trust Fund, a trust fund so large that in 300 years no child born in Natchitoches parish will have to worry about the cost of education. The trust fund will generate interest over the next 300 years with the purpose to issue a cash reward to every child born in Natchitoches Parish upon completion of high school, college and/or a graduate degree.
It is estimated that a $90,000 investment in 2013, with a conservative annual interest of 5%, will generate billions of dollars over the next 300 years.
The Natchitoches Legacy Art Project Beading workshops will continue through November with an unveiling ceremony slated for the end of November. To sign up for a workshop, please visit http://www.signupgenius.com/go/9040A4FA9AE23A31-natchitoches1 for group reservations or http://www.signupgenius.com/go/9040A4FA9AE23A31-natchitoches for general workshops. Sign-ups can also be completed by calling the Natchitoches Main Street office at 318-352-2746.
To order a Natchitoches Legacy print, call Stephan Wanger at 504-400-4603.
The Natchitoches 300 Legacy Art Project will be managed by the Cane River National Heritage Area, Inc [CRNHA].
Contact Information & Media Inquiries:
Farrah Reyna 1-800-259-1714
The Natchitoches Legacy Art Project
Cynthia Sutton (318) 356-5555
Stephan Wanger, Artist (504) 400-4603