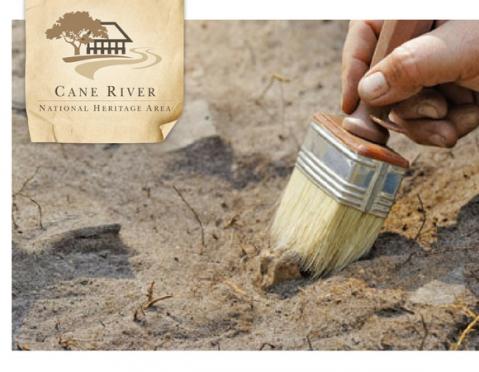 NATCHITOCHES, LA – Cane River National Heritage Area, Inc. (CRNHA), will host Archaeology Day on Saturday, October 28, 2017 at the U.S. Army Corps of Engineers Grand Ecore Visitor Center.
The day-long event will celebrate Louisiana Archaeology Month with hands-on children's activities and discussions led by two regional archaeologists. Tad Britt, Head Archaeologist with the National Center for Preservation Technology and Training will discuss his research of a "Pioneer Settlement Along the Red River: An Archaeological Investigation of a Mid-18th century Colonial Homestead near Natchitoches, Louisiana." Britt's discussion is scheduled to begin at 10:30AM.
At 11:30AM, Jeff Girard, Vice-President of the Louisiana Archaeological Society will discuss his most recent work on "The Discovery and Rescue of a 14th century Dugout Canoe on the Red River." In June of this year, a remarkable prehistoric dugout canoe was discovered on the banks of the Red River north of Shreveport, Louisiana.  At 10.2 m (about 34 ft) in length, it is the largest yet discovered in Louisiana, and one of the largest in the Southeastern United States. This presentation summarizes the challenges that confronted researchers and local volunteers for extracting the canoe from the riverbank and transporting it to Texas A&M university where it now is undergoing conservation.
"We also wanted to commemorate Archaeology Month for our youngest patrons and will have a drop-in 'Archaeology Station' set up between 10AM-2PM," remarked Rebecca Blankenbaker CRNHA Director of Communications. Children will get to see and feel the amazing pottery designs of the Caddo Indians and make their own pottery craft. The whole family can participate in the "Decipher the past by looking through the trash!" activity, an experience that will introduce the research process of archaeologists studying the artifacts of past cultures and societies. Lastly, an Archaeology themed story time will take place at 1PM.
Archaeology Day is free and open to the public. Events are scheduled to take place from 10AM-2PM at the Grand Ecore Visitor Center located at 106 Tauzin Island Road, Natchitoches, LA 71457. For questions contact Cane River National Heritage Area at 318-356-5555.
###
Cane River National Heritage Area, Inc. manages the daily operations and visitor relations of the Grand Ecore Visitor Center in partnership with the US Army Corps of Engineers. The Grand Ecore Visitor Center is a US Army Corps of Engineers site on the J. Bennett Johnston Waterway, a 236-mile segment of Red River extending from Shreveport, Louisiana to the Mississippi River. For information about the US Army Corps of Engineers visit http://www.mvk.usace.army.mil/.